Manchester United were one of the busiest clubs in the summer transfer market at the start of the season but Jose Mourinho is evidently unhappy with the options at his disposal and is now looking to add more players to his side, in the January transfer window. Mourinho has particular positions in the squad that he wants to improve on and one position that is haunting him is left-back.
Ashley Young has been used as a make-shift full-back regularly this season to good effect but the likes of Daley Blind, Marcos Rojo, Matteo Darmian and Luke Shaw have all failed to impress the manager, who now wants another name.
Blind and Shaw put on excellent performances in their game against CSKA Moscow recently but that will not change Mourinho's mind who now, according to reports, is stepping up his pursuit of Scottish star Kieran Tierney.
Predominantly a left-back, the 20-year old was one of the most impressive players for Scottish giants Celtic, in their European adventure this season. He came out triumphant against the likes of Neymar Jr and Frank Ribery in the group stage games this year and has truly announced himself at the European stage already.
He is yet to represent his senior national side but already has 63 domestic league appearances in his country. He has 16 assists in this time, two of which have come this season, and is fast growing into one of the most effective full-backs in Europe.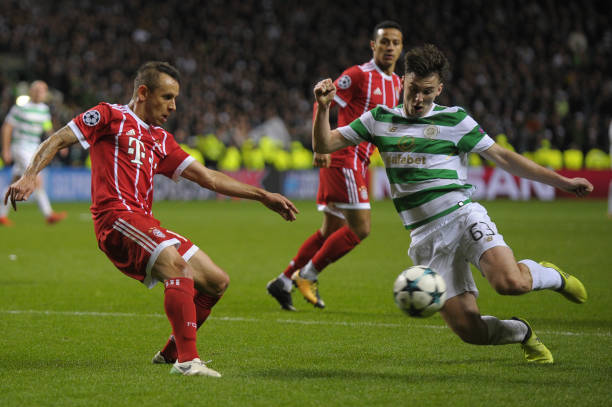 His dribbling and crossing are his biggest assets but his aggression and physical approach to the game, along with gifted technique, makes him a dangerous player for the opponents. With decent pace to burn, he is never afraid to take on his man but is disciplined in his defensive duties, putting a shift at the back, whenever needed.
His movement, in and around both boxes is exemplary for a player his age and it does not come as a surprise that a host of top European clubs are after his signature.
He may not be allowed to leave Glasgow in January but Tierney, who was in-demand even in the summer, could definitely head to the Premier League after the end of the season and Manchester United are desperate for his services.
Mourinho is also looking at Tottenham Hotspur's Danny Rose, who is a more established star in England but at 27, the English ace, with his injury history, is not really a player who can establish a legacy at Old Trafford. Tierney's case is in stark contrast to this.
At just 20, he will only get better with more game time and playing for a club like United, alongside some of the best in the game, will only help him turn into a better player. His contract runs down in 2022 but he has a low release clause, which should not be a problem for the Red Devils. But do you think they should go all in for him next summer?
The following two tabs change content below.
Latest posts by Aakarsh Bommakanti (see all)
Facebook Comments
comments