Shocking reports from London suggests Chelsea head coach Antonio Conte will soon face the axe after a series of disappointing performances and a mix up with the board. The former Juventus coach had a series of rows with the board regarding their transfer policy and that might lead to an early end to Conte's tenure as Chelsea boss.
According to Daily Record's excellent Transfer Window Podcast host, Ian McGarry, Chelsea have already identified former boss Carlo Ancelotti as their interim coach following the sacking of Antonio Conte. The Italian Conte will be replaced by his fellow Italian countryman Carlo Ancelotti till the end of this season.
But does that make sense for the London giants?
Firstly, it seems like an uncertain decision by the board to sack Antonio Conte. However, Carlo Ancelotti is the best replacement they could possibly hope for. The three times Champions League winner is advertised with an excellent CV as well as vast experience in managing big clubs throughout Europe.
During his coaching career, the Italian mastermind has managed clubs like Milan, PSG, Juventus, Real Madrid, Bayern Munich and of course, Chelsea.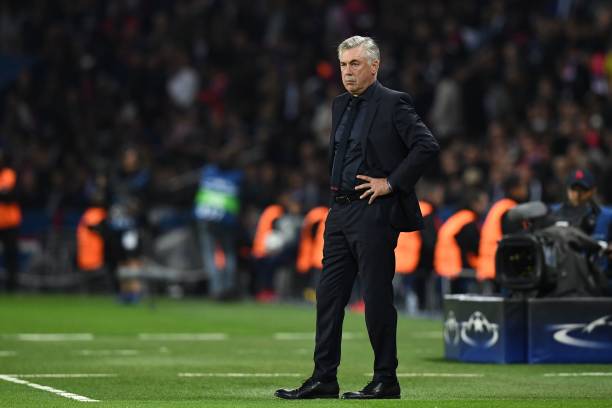 The Blues have had their troubles this season keeping up with league leaders Manchester City. Even though they are sitting pretty in the third spot, the London giants trail both the Manchester clubs, which doesn't always go down well with the Chelsea fans.
Carlo Ancelotti could be the perfect man to bring Chelsea's season back on track. His impressive managerial track record coupled with his vast experience in the Premier League as well as the Champions League could help the Blues seal at least one trophy come the end of the season.
Ancelotti's exposure in the Premier League in the past is what makes him such a good replacement for Antonio Conte. In fact, not only does he only have the experience in managing in the English top flight but he also helped Chelsea win the Premier League title, meaning he has the perfect notion of what it takes to be crowned as English Champions.
However, it's still unclear whether or not will Chelsea sack their head coach Antonio Conte. Therefore, it's difficult to make a proper assumption at this point. But one thing's for sure, should the Blues decide to sack their current head coach, Carlo Ancelotti will be the perfect replacement for the 48-year-old.
The following two tabs change content below.
Anas Ali
Bundesliga connoisseur and writer at Bundesliga Fanatic and The 4th Official. My heart belongs to Borussia Dortmund or Eintracht Frankfurt (still not sure who deserves the most), but I adore the Bundesliga and Spanish footballing tactics. 16 years old, Josh rides Tyler |-/ (I already love you if you know what that means)/ Come to my house and we will watch Netflix and eat Nutella. lol just kidding.
Facebook Comments
comments