Arsenal and Manchester City are going head-to-head in the battle to sign talented Ajax youngster Frenkie de Jong. The 20-year-old central midfielder only has 18 months left on his current contract and is valued at around €5 million.
According to reports from the Sun, Premier League defending champions Chelsea and Arsenal are keen to secure the services of the Dutchman along with current league leaders Manchester City. But does he have what it takes to thrive in the Premier League? Here's a detailed SWOT report on the highly talented 20-year-old midfielder from Ajax.
Strengths
As you would expect from any Dutch midfielder, Frenkie de Jong is blessed with a sensational passing ability which is coupled with his excellent technical qualities. He is normally a creative midfielder, who acts as a number ten for his team. De Jong is quite good at creating chances for his team but he also likes to dribble around as well, in the final third.
His excellent vision allows him to pick the right passes in the opposition half, which eventually leads to more scoring opportunities for his team. He also has an impeccable first touch as well as a great passing range, which can be perfect for Arsenal or Manchester City.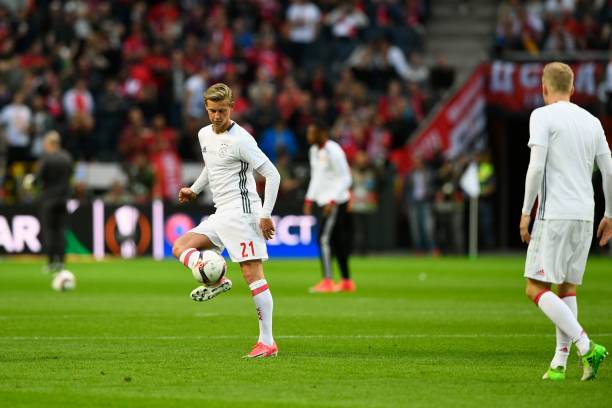 Weaknesses
The 20-year-old prefers to use his technical qualities rather than his physical prowess, which is no sin but can actually cause quite a discomfort in the Premier League. Therefore, he needs to improve on his physical aspect of the game, if he wants to thrive in the English game.
Furthermore, Frenkie de Jong is not someone who is blessed with sheer pace nor stamina, meaning his counter-attacking play might not be as good as his superiority in the possession-based game. However, the youngster also lacks the tactical flexibility, which doesn't really bode well for the possible suitors.
Opportunities
Opportunities might be very limited should the Dutchman plans to move to the Premier League in this upcoming winter transfer window. However, a move to Arsenal could be interesting, as the Gunners are readying themselves for life without their key playmaker Mesut Ozil, de Jong could actually prove to be a decent alternative for the German superstar.
Breaking through the ranks of Chelsea or Manchester City will be a lot tougher, however.
Threats
There is an increasing number of threats in signing Frenkie De Jong. Not only does he lack the necessary experience to make the next step in his career, but the youngster also has several flaws in his game, which will definitely half his growth as a top class playmaker.
The following two tabs change content below.
Anas Ali
Bundesliga connoisseur and writer at Bundesliga Fanatic and The 4th Official. My heart belongs to Borussia Dortmund or Eintracht Frankfurt (still not sure who deserves the most), but I adore the Bundesliga and Spanish footballing tactics. 16 years old, Josh rides Tyler |-/ (I already love you if you know what that means)/ Come to my house and we will watch Netflix and eat Nutella. lol just kidding.
Facebook Comments
comments