Going into today's game Sunderland were bottom of the Championship. They had won just once all season. And after only being relegated from the Premier League last season, Sunderland look set to be heading to League One just a season later. They also sacked Simon Grayson before today's game. Meaning Sunderland were hoping for a bit of caretaker good luck today when they travelled to Middlesbrough.
After going 1-0 down inside six minutes Sunderland did look to press for an equaliser. They had several good chances in the first half. However, Darren Randolph denied them an equaliser. Sunderland pressed well for an equaliser in the second half. However, they couldn't break down Boro and it finished 1-0.
Here are the Sunderland player ratings from their defeat to Boro.
Sunderland Players Rated
Robbin Ruiter: 8/10
Ruiter could have perhaps done better with Boro's first goal as he was somewhat out of position.
He then made a great save on 56 minutes to deny Martin Braithwaite. Ruiter made another good save on 74 minutes from a Boro free kick. Ruiter was probably Sunderland's best player today as his countless saves stopped Boro extending their lead.
Billy Jones: 5/10
Jones could have done a better job of marking Tavernier who scored Boro's first from close range. Jones then connected with a good header on 10 minutes which Randolph saved, it was also offside.
Jones was then forced off in the 26th minutes after suffering an injury. Overall, he did decent going forward but looked shaky at the back.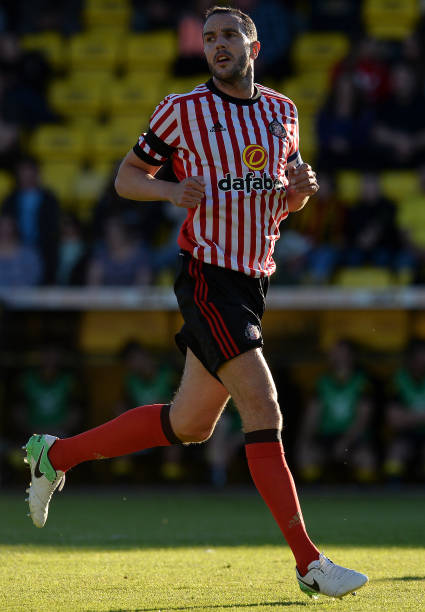 John O'Shea: 6.5/10
Sunderland's captain didn't do a lot wrong in the first half. And he kept Britt Assombalonga fairly quiet.
O'Shea continued to keep Britt quiet into the second half. He didn't do a lot wrong today.
Marc Wilson: 6.5/10
Wilson made a solid tackle on 11 minutes to stop Braithwaite getting through. He too helped keep Assombalonga quiet and also had a solid game.
Brian Oviedo: 5/10
Oviedo did well to deal with a dangerous Braithwaite cross on 21 minutes. However, he did not deal with Christie well who caused him nothing but problems all game.
Lee Cattermole: 6/10
Cattermole had a decent long shot on nine minutes which Randolph saved. He then made several crunching tackles in the first 45, as Cattermole always does. He failed to create much today though and was dominated by Leadbitter and Howson.
Darron Gibson: 5/10
Gibson failed to clear a Braithwaite cross on 16 minutes. But luckily for the Irishman, nothing came of it. Gibson didn't have a great game. He miss placed several passes and his overall display was poor.
Didier Ndong: 7/10
Ndong had the first shot of the game from range which forced an error from Randolph. Ndong then cut inside on nine minutes to set up Cattermole for a long shot.
The midfielder was probably Sunderland's brightest player in the first half. He attacked well and created a few chances. Unfortunately for Sunderland, he too was subbed off in the 54th minute due to injury.
Paddy McNair: 5/10
Despite usually playing further back, McNair played in a much more advanced role today. However, he had a very quiet first half.
McNair struggled for much of the game in an attacking role. He was take off in the 78th minute.
Aiden McGeady: 5.5/10
McGeady fired a shot just over on 38 minutes. He did have a very quiet first half though. The winger then fired a shot wide from inside the box in the 80th minute, he probably should have done better.
McGeady just couldn't seem to create much today and his one good chance in the 80th minute he missed.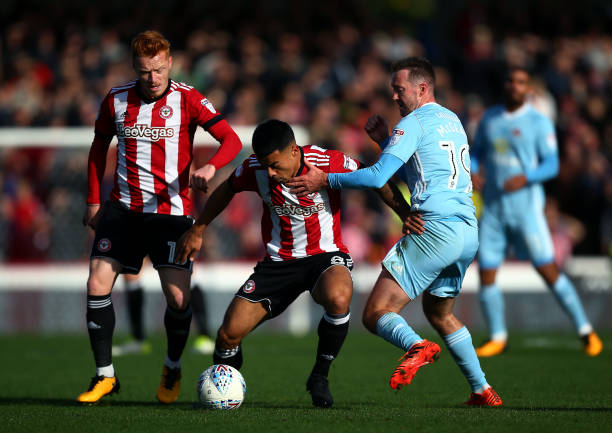 Lewis Grabban: 6.5/10
Grabban picked up the ball from 4 yards out inside 3 minutes and should have scored. But Randolph pulled off a great save.
The striker had his first good chance of the second half in the 51st minute when he hit his header well over. Overall, Grabban had some decent chances today. But he should have scored that first one in the 4th minute.
Substitutes
Adam Matthews: 6.5/10 (26th minutes)
Matthews did well almost from the get-go as he headed away a Downing cross that Braithwaite nearly connected with.
Matthews had a bright first half, including playing a ball over the top to Grabban in the 41st minute which Gibson just about dealt with.
The sub put several good crosses into the Boro box in the second half. However, Boro dealt with them well. He was defiantly Sunderland's best sub today.
George Honeyman: 4/10 ( 55th minute)
Honeyman did very little when he came on and failed to provide the attacking threat that Ndong did.
Jonny Williams: 5.5/10 (78th minute)
Williams made several good passes when he came on and a few good tackles. But he didn't create that one key chance Sunderland needed to get back into the game.
The following two tabs change content below.
Josh Barker
20, aspiring journalist, Middlesbrough FC correspondent.
Latest posts by Josh Barker (see all)
Facebook Comments
comments