Real Madrid have devised a plan to further strengthen their squad, in light of their recent mini-crisis, as the defending champions of Europe slumped against Girona and Tottenham Hotspur in their previous two matches.
Real Madrid president Florentino Perez has five stars from the Premier League on his January wish list to bolster his squad and according to a report from Diario Gol, Manchester United's midfield sensation Ander Herrera is one of them.
The Spanish giants have really struggled in their last few matches, which was coincided with their midfielders lacking confidence and form. Therefore, Ander Herrera might actually a strong impact at the Bernabeu, considering the fact that German superstar Toni Kroos has completely looked out of sorts, of late. In fact, the future of Luka Modric has also been under the microscope.
Following an impressive last season, Ander Herrera hasn't been able to make a strong impact this campaign, largely being outperformed by the likes of Henrikh Mkhitaryan, Juan Mata, and Nemanja Matic. Even though Paul Pogba's injury has paved a way for him to start United's latest string of matches, the Spaniard will be keen to move to Santiago Bernabeu this January.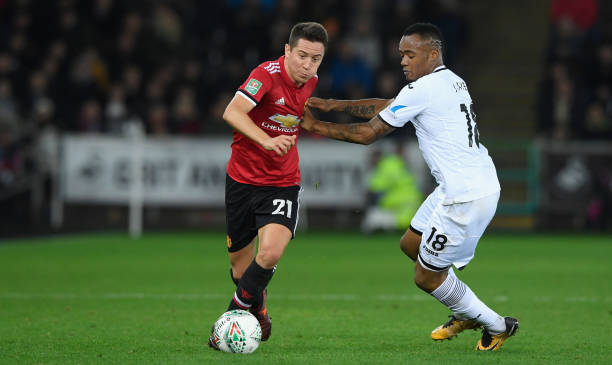 Ander Herrera is a technically astute midfielder, who is particularly good in the build-up play. His exceptional passing range, coupled with his clever movements in half-spaces will aid Madrid in their constructive phase of possession, which they've been lacking in recent matches.
In addition, Real Madrid midfielder Mateo Kovacic hasn't been the fittest player in recent seasons and has somewhat failed to provide the necessary spite to influence Real Madrid's creative department. Ander Herrera can help take the pressure off Isco in terms of offensive creativity. He's also a tactically adept playmaker, who can not only contribute to the attacking creativity but can also pull the strings in the middle of the park.
Ander Herrera can be the perfect choice for Real Madrid in every way possible since relying on Dani Ceballos is no short of taking a gamble. Furthermore, his current contract with the Red Devils expires at the end of this season, meaning he could be available for a pre-contract in the January transfer window, meaning he could also be a total bargain for Los Blancos as they look to further strengthen their midfield positions.
The following two tabs change content below.
Anas Ali
Bundesliga connoisseur and writer at Bundesliga Fanatic and The 4th Official. My heart belongs to Borussia Dortmund or Eintracht Frankfurt (still not sure who deserves the most), but I adore the Bundesliga and Spanish footballing tactics. 16 years old, Josh rides Tyler |-/ (I already love you if you know what that means)/ Come to my house and we will watch Netflix and eat Nutella. lol just kidding.
Facebook Comments
comments