Bristol City have joined the race for Finnish International midfielder Robin Lod. The Panathinaikos midfielder has been in impressive form, since moving to Greece two years ago. However, the Robins are expected to face stiff competition from Belgian giants Standard Liege in the race to sign the highly rated midfielder.
Robin Lod has been an omnipresent figure in the Panathinaikos midfield in recent seasons. The Fin helped his club to a respectable third-place finish last season and even though the Shamrocks have started this new campaign on a rough note, Robin Lod has been an influential part of their squad.
Lod's current contract with the club expires at the end of this season, and it is expected that the 24-year-old midfielder will take the next step in his career next summer. According to DH.be, Lod's departure is inevitable and could even take place in January, with Panathinaikos plagued by financial problems, and a fee of €500,000may be enough to prise him away.
Bristol City have been in great form this season. Currently standing fourth in the league table, the Championship outfit have managed to keep up with the big guns of the English second division. While they still trail table-toppers Wolverhampton Wanderers by five points, Robin Lod's arrival could greatly strengthen their position on the league table.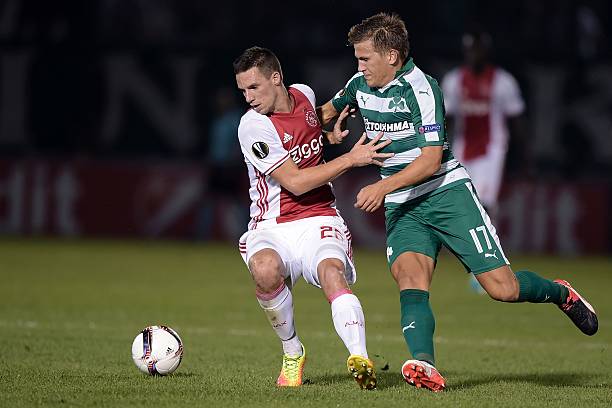 Lod, 24, can play anywhere across the midfield, which can be very handy considering the tight schedule of the English second division. His calming presence on the pitch could revitalize Bristol City's overall gameplay while he is also known for his ability from long range. The 24-year-old is a technically sound midfielder, who can also link-up with his teammates as well as provide a spite going forward.
Even though Lod is a central midfielder by trade, the Finnish International loves to go forward with darting runs into the final third, which, quite often, destabilizes the defensive stance of the opposition. He is also very good in terms of ball circulation and always has one eye in finding that defence-splitting through ball.
Bristol City are currently in a great form and the addition of the Finnish midfielder could help them make a strong push for promotion this season. The Robins are hopeful that the potential chance of playing in the Premier League and show off his skills in arguably the best top-flight football league in Europe might be good enough to convince Lod to move to Ashton Gate this January.
The following two tabs change content below.
Anas Ali
Bundesliga connoisseur and writer at Bundesliga Fanatic and The 4th Official. My heart belongs to Borussia Dortmund or Eintracht Frankfurt (still not sure who deserves the most), but I adore the Bundesliga and Spanish footballing tactics. 16 years old, Josh rides Tyler |-/ (I already love you if you know what that means)/ Come to my house and we will watch Netflix and eat Nutella. lol just kidding.
Facebook Comments
comments