Manchester United and Chelsea are two of the biggest spenders in the transfer market in England this summer as both clubs will look to fight for more than one trophy this season. Both teams are still looking to spend big and add quality players to the squad but the lack of talent up for grabs in the transfer market might see them fight over a single player this summer.
One such player, both teams have already made moves for is Barcelona star, Sergi Roberto. The versatile midfielder was used as a fullback in the previous season by Luis Enrique but Ernesto Valverde, the new boss at Camp Nou is not too adamant to keep him and reports claim that both English clubs have already take a step to sign him up.
So, Old Trafford or Stamford Bridge? Which is the best destination for the Spanish midfielder this summer?
Known for his technical ability with the ball at his feet, Roberto is a smart player whose understanding of the game allows him to thrive in many positions. A central midfielder by trait, Roberto is adept at creating chance after chance in the final third and is also capable of sitting back and shielding his backline.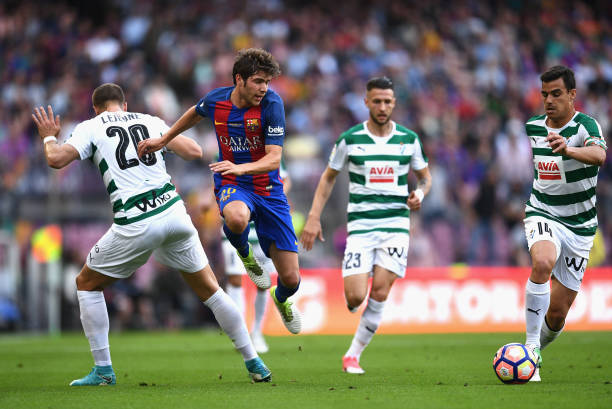 He can play in wide positions, as he did last season but is at his best playing in a central role and both English clubs want him for this role, this summer.
Manchester United spent on Nemanja Matic as the first choice midfielder next season but Marouane Fellaini and Michael Carrick are the only options to replace him in the midfield. Paul Pogba and Ander Herrera will hog the other two places in the midfield-three and Roberto can walk into any of these positions in the first team at Old Trafford.
Antonio Conte decided to bring in Tiemoue Bakayoko to replace Matic this season but now has Cesc Fabregas as the only backup for his midfield this season. Roberto can not only add to this number but can also learn from a fellow Spaniard, probably one of the best players ever to play in this position.
The 25-year old is not expected to walk into the first team at either club but he is expected to get more chances at the Stamford Bridge. He has to work on his aerial ability and strength in hold up play but he can be a match winner in the English league in years to come and will be a huge coup for the Blues and Conte. But do you think Chelsea is the right destination for the Barcelona man?
The following two tabs change content below.
Latest posts by Aakarsh Bommakanti (see all)
Facebook Comments
comments