Bayer Leverkusen are on the brink of a mass exodus as it seems. One of the few marketing clubs in Germany, often being regarded as one of the powerhouses of German Football, is losing key players on a regular basis. Mainly because of their underwhelming performance, last season, where they somehow managed to escape relegation by finish 12th. A season which saw important players such as Hakan Calhanoglu, Omer Toprak leave, while a host of other players are also on the verge of leaving Bay Arena, including Mexican superstar Javier Hernandez.
The former Manchester United player was linked with different Premier League clubs this summer. West Ham and even Premier League champions Chelsea were willing to sign the Mexican International. According to Mexican media, Chelsea manager Antonio Conte also voiced his interest in Javier Hernandez, as they are also in need of a striker to replace a departing Diego Costa after failing to land Romelu Lukaku last week. However, recent rumours suggest that West Ham United are set to beat the Blues and offer a massive 145k euros a week deal!
Also, there is a talk that Javier Hernandez wants to stay at Leverkusen this season and then move to newly formed MLS side LAFC in 2018. Given, Chelsea and West Ham are now the front runners for signing the 29-year-old forward, we will figure out which club will be better suited for the former Manchester United striker.
Chelsea
After clinching the title quite comfortably last season, there will be a lot of expectations going ahead into the new season for Chelsea. However, striker Diego Costa is on the verge of leaving Stamford Bridge, and as a result, the Blues will be desperate to find a new striker this summer. They have previously failed in their bid to sign former striker Romelu Lukaku, who moved to Manchester United last week.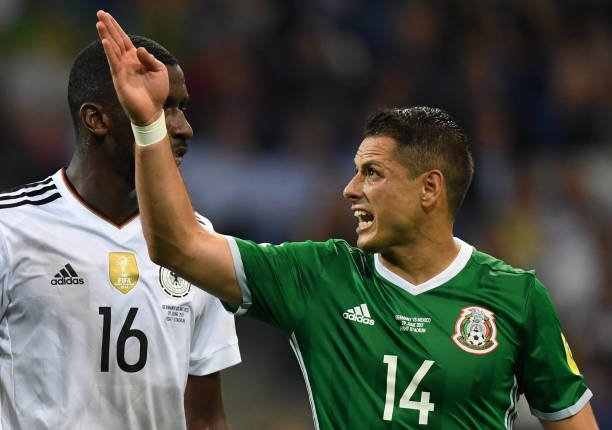 Watching Chelsea last season, we all have probably come to the realisation that Antonio Conte's system demands a lot of physicality rigour and athleticism for one to thrive under the Italian boss. Diego Costa was one perfect example of that. The former Atletico Madrid frontman, renowned for his physicality and stamina, played a crucial part in their title winning campaign last season, scoring a bulk of their Premier League goals.
Javier Hernandez, on the other hand, may not have the right amount of physicality to quickly get used to the new system. Also, Chicharito found it quite difficult to thrive at Manchester United due to a plethora of other talented attackers. At Chelsea, he is likely to face a similar situation.
West Ham United 
Moving to West Ham is by far the best option for Javier Hernandez. The Premier League outfit have struggled with their new acquisitions last season and are in need of someone experienced, who can lead the line.
A key factor about Slaven Bilic's side is the fact that they lack quality in the striking positions, unlike Chelsea, who already have players like Michy Batshuyai and Eden Hazard as alternatives. In addition, the Hammers' tactical gameplay might suit perfectly for the Mexican International.
There's no doubt as to why Slaven Bilic is ready to bring in the Bayer Leverkusen striker, whose experience will help the club rise to the top of the League Premier charts once again!
The following two tabs change content below.
Anas Ali
Bundesliga connoisseur and writer at Bundesliga Fanatic and The 4th Official. My heart belongs to Borussia Dortmund or Eintracht Frankfurt (still not sure who deserves the most), but I adore the Bundesliga and Spanish footballing tactics. 16 years old, Josh rides Tyler |-/ (I already love you if you know what that means)/ Come to my house and we will watch Netflix and eat Nutella. lol just kidding.
Facebook Comments
comments