The departure of Kyle Walker to Manchester City might have been a big profit for Tottenham Hotspur, but at the same time, it has left the, with a big gap to fill in defence. Spurs are reportedly looking at quite a few options, and per Sky Sports, TSG Hoffenheim's Jeremy Toljan is one of them.
The young Hoffenheim fullback, who rose to prominence thanks to a great U-21 European Championship campaign with Germany, is attracting a lot of interests at the moment. In fact, European Champions Real Madrid was also interested in signing the youngster. A big money offer could easily persuade Hoffenheim to release their starlet. But that should not be a problem for Tottenham Hotspur, following the record departure of their right back Kyle Walker for a fee of £50m.
Toljan has long been touted as one of Germany's brightest fullback talent, but his progress hasn't been as swift as Jonas Hector or Benjamin Henrichs. However, after his recent performances in the U-21 Euros, he surely became a hot prize in the summer transfer window.
Strengths
Toljan is a hard working fullback. Unlike their other target, Benjamin Henrichs of Bayer Leverkusen, Toljan loves to attack for his side. He is quite efficient and dangerous when it comes to driving forward with pace and menace, exactly the reason why Real Madrid wanted someone like Toljan in their squadron. If Spurs are to replace Kyle Walker with a like for like replacement, then Jeremy Toljan seems to be a perfect player for Mauricio Pochettino's men.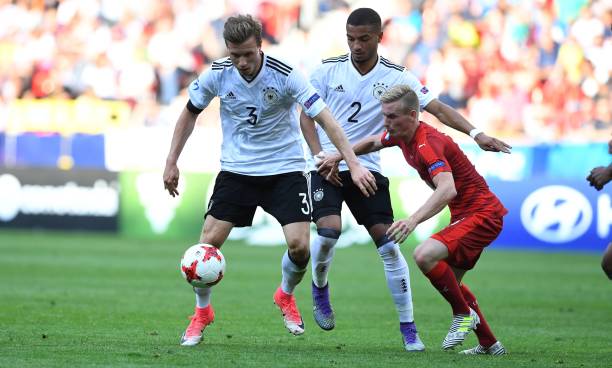 The youngster has created 15 chances in just 20 games for Hoffenheim last season. Despite not being the favourable choice for coach Julian Nagelsmann, the fullback was very good with his overall performances for the Bundesliga outfit. Toljan averages more than one interceptions per game and has contributed to 34 clearances last season. His passing stats are also better than Henrichs with 78%, that could improve under the leadership of Mauricio Pochettino.
Weaknesses
Even though Toljan is a great offensive fullback, he still has a lot of work to do on the defensive side of things. He is often complacent and lack of a lot of defensive abilities, thus the reason that prevents Julian Nagelsmann from playing him regularly. Toljan is nowhere as solid as Henrichs, and barely manages a tackle per game. His take-on ratio is dreadful with just six take-ons completed in 26 attempts, a ratio of only 23%. He also lacks heading abilities with just 27% headers won last season.
Toljan certainly needs to improve his positional sense and his decision making if wants to get close to the level of other top fullbacks, as the statistics bear out.
Opportunities
It will depend on coach Mauricio Pochettino, and whether or not he opts for Kieran Trippier. In the last few months, the former Burnley defender was clearly preferred over other defenders in the team. However, Walker's departure clearly opens up a space for Toljan. The 22-year-old will have to fight it out with Kieran Trippier for a starting position in the team next season.
Threats
There are a lot of insecurities over signing Jeremy Toljan. First and foremost, the 22-year-old is nowhere near the level of other highly talented wingbacks such as Jonas Hector, Benjamin Henrichs or even Marvin Plattenhardt. He was largely outperformed by Swiss International Steven Zuber, because of the latter's mobility in offensive positions.
Toljan also lacks a certain amount of experience when it comes to playing at the top level. In fact, he is not even a regular with his current side. So it really calls out for a lot of pessimism if, in any case, Jeremy Toljan moves to the Premier League heavyweights.
The following two tabs change content below.
Anas Ali
Bundesliga connoisseur and writer at Bundesliga Fanatic and The 4th Official. My heart belongs to Borussia Dortmund or Eintracht Frankfurt (still not sure who deserves the most), but I adore the Bundesliga and Spanish footballing tactics. 16 years old, Josh rides Tyler |-/ (I already love you if you know what that means)/ Come to my house and we will watch Netflix and eat Nutella. lol just kidding.
Facebook Comments
comments