Renato Sanches is a typical case. A transfer from a European contender (Benfica) to a European giant (Bayern Munich) gone bad. He was one of the most sought after players on the planet after the 2016 European Championship, during which he stood on the stage with his Portuguese teammates as football kings of the continent. So why are both Chelsea FC and Italian behemoths AC Milan still interested in acquiring him? Let's examine.
Sanches was regarded as one of the best box-to-box midfielders in Europe. He made numerous recoveries for Benfica throughout the 2015-16 season and matched unbelievable skill with lightning-fast speed. He can immediately switch from a traditional centre mid, one that can shred through the opponent's line with ease, to a pressing defender, placing immense pressure on opposing players and forcing them into errors.
Sanches excels at pressing his team forward and can transition from a holding to an attacking midfield role in an instant. At Benfica, he played with a confidence that was equal to that of an established superstar playing for one of Europe's elite. So what happened?
It would have been wise for Renato Sanches, only 18 at the time, to stay at Benfica for another year or even two. His skills were still raw and that same energy and tenacity that created so many opportunities for his team showed they had a downside. Often Sanches would lose possession or make errant passes, his awareness and timing showing they still needed much development. He will sometimes rush to judgment make an errant tackle or be unaware of a teammates' positioning. All of these are the frailties of a young, talented player, with many months of development and fine-tuning still ahead.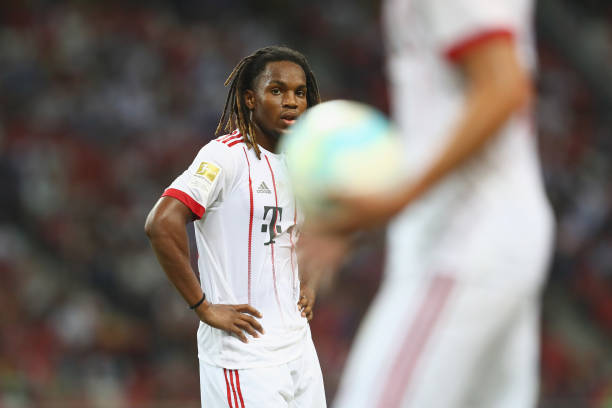 As is the case many times, when the big clubs call, the player usually answers, prematurely in many cases. Renato Sanches is no exception to this, as he left Benfica last summer to play for the German record-champions, Bayern Munich. With new manager Carlo Ancelotti taking over for Pep Guardiola, it was uncertain if an inconsistent 18 year old "wunderkind" would get many opportunities. Ancelotti often prefers to stick with proven veterans who have "been there before," rather than taking a gamble on a player who hasn't quite figured everything out yet.
Carlo Ancelotti gave Renato Sanches opportunities at Bayern and almost every time, his next outing was worse than the previous one. Sanches made less than ten starts in the Bundesliga during the 2016-17 season. His development stalled while the errors and poor awareness on the pitch began to accumulate. The player looked lost and confused on many an occasion.
Eventually, he played himself out of any significant playing time. Sanches, who was the driving force behind Benfica's midfield, was not needed for that role in Munich. To be honest, he does not fit well anywhere within the Bayern Munich starting eleven currently. He enjoyed freedoms at Benfica regarding his style of play that simply is not available to him in Germany. Benfica allowed him to play to his strengths and Bayern did not, which further exposes the weaknesses in his game. So why do Chelsea suddenly have interest?
It would be foolish to say that Renato Sanches is satisfied with his first season in the Bundesliga. As a result, it is not hard to imagine that the player is equally dissatisfied with his current position on the Bayern Munich roster. Under normal circumstances, any suitors would exhibit patience to see if a player with as much potential as Sanches possesses, could bounce back and show improvement the following season.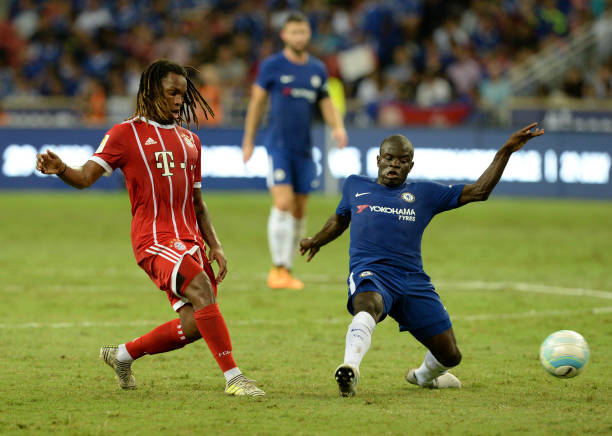 Apparently, Chelsea is not interested in waiting that long. When something does not fit, it simply does not fit. This is the predicament Sanches finds himself in at the moment and with certainty, his agent will be aggressively selling this point. "It's the club, not the player."
If Antonio Conte were to use a 3-4-3 formation, who would Sanches displace at Chelsea to earn more playing time and a potential starting eleven spot? The answer: Currently, no one. This is why Conte could possibly move to a 3-5-2 lineup with the purchase of Renato Sanches.  He has always been fond of using this system but has lacked the necessary personnel with the Blues thus far.
The five-man midfield would consist of two wingbacks and three attacking midfielders. The odd man out in this scenario is assist-ace Cesc Fàbregas, who lacks the pace needed in order for this formation to be at its most effective. Renato Sanches is the perfect fit however. This attacking role, which would likely combine him with the newly acquired Tiemoue Bakayoko and N'Golo Kanté, allows Sanches to best utilize the skills that made him such a hot commodity only a year ago.
It is a situation that fits him like a glove. It hides his weaknesses and showcases his strengths, additionally, allowing him to continue his development with a major club. It should be noted, the interest for Renato Sanches at this moment is not to purchase him outright, but rather to acquire him on a one year loan. This scenario is a win-win for Bayern Munich and Chelsea. It provides the Bavarians with a more polished player when he returns and it allows Conte to use his "holy grail" 3-5-2 formation next season.
The following two tabs change content below.
Christopher Smith
Christopher grew up in Amberg, Germany, but now resides in Charleston, South Carolina in the USA where he follows the Bundesliga and Premier League on a weekly basis. He is an avid Borussia Dortmund and Liverpool FC fan, but enjoys all German and English football from top to bottom. His favorite players are "Super" Mario Götze and Daniel Sturridge. You can follow him on twitter @crittysmith
Latest posts by Christopher Smith (see all)
Facebook Comments
comments