The transfer saga of Pierre-Emerick Aubameyang has perhaps been one of the weird ones this summer. The Gabonese super star, largely wanting to leave the Signal Iduna Park, is still bound to Dortmund. Recently Chinese club Tianjin Quanjian failed to sign the striker, despite having interest on the Bundesliga sharpshooter, due to the Chinese transfer shutting down on 14th of July. Meaning Chelsea and AC Milan remain the only clubs to be still interested in Aubameyang. However, Borussia Dortmund have recently warned other clubs about closing the window for Aubameyang, if they don't submit an official offer within the next few days, per SportBILD.
So the big question is whether or not will Aubameyang be worth the value and can he successfully lead the charge for Chelsea next season?
Valued at around €70-80m, Aubameyang is definitely a gamble for any club right now. The Gabonese International has shown exceptional form for Borussia Dortmund ever since he joined the club in 2013. His scoring rate in the Bundesliga is exceptional. Scoring 85 goals in just 128 games certainly proves he's a top notch striker.
However, he may not be as good of a signing as it looks on the paper. In fact, Chelsea spending €70m on Pierre-Emerick Aubameyang might even turn to be a disaster at the end. I think we all agree the fact that he's one of the quickest players playing in the Bundesliga, however, there is a bad side of Aubameyang's overall game. Something which may prevent him from thriving under the new condition, and of course, the new manager.
Firstly, Aubameyang doesn't like to defend. In fact, he hates defending. The 28-year-old rarely tracks back playing for Dortmund. He is more of a striker, who plays at the shoulders of the last defender. Moreover, he's not the most physically fit players on the pitch. Auba will definitely struggle to out-muscle the opposing defender.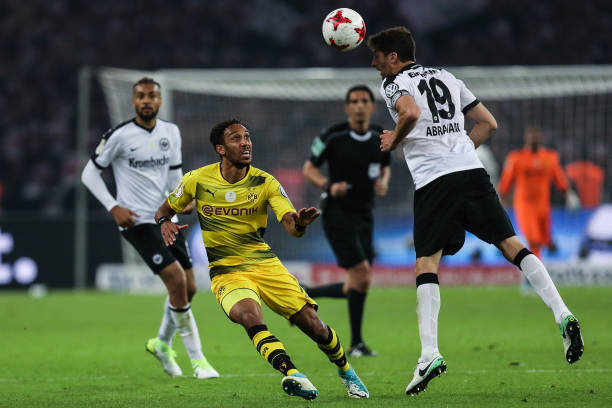 With the way the Premier League game is evolving day by day, it's almost necessary for a striker to have some physicality about him, in order to thrive. His lack of mobility in defending is surely not a good sign for Antonio Conte, for whom, running and tracking back is a key outlet of the game plan.
It's no wonder why Diego Costa has been so successful in the Premier League. And not just him, players like Zlatan Ibrahimovic, Romelu Lukaku, Wayne Rooney, Olivier Giroud have all found success in the English due to the presence of physicality in their overall offensive game. Aubameyang is certainly not the kind of striker who will rely on his strength in order to get past a defender.
Another issue with the Dortmund striker is his tendency to miss chances. Sure, he might have scored a lot of goals in the Bundesliga but a number of chances he misses every game can prove to make a huge difference. Aubameyang will definitely not get the same amount of chances with Chelsea as he gets from Dortmund week in week out. The rash nature of the Premier League often prevents even the most talented midfielders to create fewer chances than usual, and with Auba's tendency to miss opportunities, he will definitely need to work on his overall accuracy.
Truth be told, Aubameyang is nowhere close to the level of Robert Lewandowski. He might score more goals than the Pole but his overall gameplay is very polarised. Unlike Aubameyang, Lewandowski is a definition of a complete striker who can not only score goals but also provide all round efficiency for his team. From taking free-kicks to winning duels, Lewandowski has it all. Aubameyang's scoring tally often deceives people, and therefore, it could be a risk for Chelsea to sign the Gabonese frontman, something they really shouldn't fancy a year after winning the title.
The following two tabs change content below.
Anas Ali
Bundesliga connoisseur and writer at Bundesliga Fanatic and The 4th Official. My heart belongs to Borussia Dortmund or Eintracht Frankfurt (still not sure who deserves the most), but I adore the Bundesliga and Spanish footballing tactics. 16 years old, Josh rides Tyler |-/ (I already love you if you know what that means)/ Come to my house and we will watch Netflix and eat Nutella. lol just kidding.
Facebook Comments
comments