Newcastle United have successfully secured the loan signing of Borussia Dortmund midfielder Mikel Merino. The Magpies are keen to build a squad which can withstand the rigours of a difficult Premier League season up ahead. Merino seems to be a good signing for the newly promoted side, and his coach and compatriot Rafael Benitez will look to bring the best out of the former CA Osasuna midfielder.
Despite making just eight appearances last season for Borussia Dortmund, Merino was somewhat impressive. Bundesliga pundits claim that Merino's move to the Premier League will end up as a success story. But what are the qualities, which the 21-year old possess? Here's a SWOT report on the Newcastle newbie.
Strength
Much like any Spanish midfielder, Mikel Merino is technically strong. His passing and positioning sense is crucial to his overall style of play. Merino is a versatile player, who can not only play as a defensive midfielder but also as a centre back. He played at the centre of the defence for quite a few games for Dortmund last season. His tall figure makes him an intimidating presence for the opposition.
Aerial abilities is perhaps his strongest asset. As mentioned earlier, standing at 1.88m, Merino's tall figure helps him to be more commanding in aerial duels. The under-21 Spanish youngster is also a smart individual and is not afraid to leave his line to press the ball carrier, quite reminiscent of Marc Bartra. Experience is also a key for Merino, who already notched up 67 competitive outings for Osasuna, prior to his move to the Bundesliga. He can explore opposition spaces with his driving actions from behind.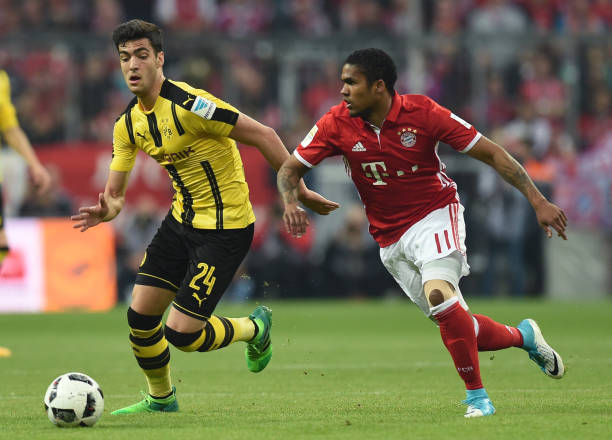 At Osasuna, he also played a significant role in their pressing scheme. Winning the ball back as soon as they lost it, was the methodology for the second division Spanish outfit, therefore, Merino is quite familiar with the pressing bits of the game. His tactical nous for the game means coach Rafa Benitez will have one handy and flexible midfielder at his disposal.
Weaknesses
Despite all his natural abilities in passing and distribution, Merino's creativity often results in huge risks. He has a tendency to look for the killer pass almost every time, and most of his passes, are not as accurate as they should be, resulting in loss of possession. Also, the lack of pace could be a worrying factor, especially in the Premier League.
Opportunites
Mikel Merino is comfortable in a double pivot midfield, which bodes well to Rafael Benitez's 4-1-4-1 formation. He could prove to be a decent backup for midfielders Jack Colback and Jonjo Shelvey. He may not receive first team minutes right from the start but as the season progresses, and the gruelling schedule starts to take it's toll on Newcastle United, Merino could be introduced either as a defensive midfielder or centre back.
Threats
There is a hint of a question mark over his ability to adjust to the Premier League football. He even found it difficult to get used to Bundesliga, moving from Spanish second division, so it will definitely take time before he gets settled in at his new club. Not all the Spanish midfielders have found it easy in the Premier League but when they did, they basically won over the league (Cesc Fabregas, David Silva for example). Will Mikel Merino follow suit? Time will tell.
The following two tabs change content below.
Anas Ali
Bundesliga connoisseur and writer at Bundesliga Fanatic and The 4th Official. My heart belongs to Borussia Dortmund or Eintracht Frankfurt (still not sure who deserves the most), but I adore the Bundesliga and Spanish footballing tactics. 16 years old, Josh rides Tyler |-/ (I already love you if you know what that means)/ Come to my house and we will watch Netflix and eat Nutella. lol just kidding.
Facebook Comments
comments