Down the years, the German Bundesliga has arguably been the best league for up and coming footballing talents in the world. The philosophy of giving young guns a chance is followed by most of the clubs in German football. Clubs like Borussia Dortmund, SC Freiburg and FC Schalke are renowned for their excellent youth academies as well as their ability to nurture young talents. Players like Mesut Ozil, Lukas Podolski, Toni Kroos have all found their feet in the Bundesliga before moving to bigger clubs.
The infusion of youth is evident more than ever now, with clubs not just relying on youth players but are also slowly implementing the idea of bringing young coaches into the scheme. For instance, Bournemouth coach Eddie Howe, aged 39 is the youngest coach in the Premier League right now. However, he would only be the seventh youngest coach if he were to coach a Bundesliga club. The same applies to the players.
So who are the most exciting young talents playing in the Bundesliga right now? Or to put it in another way, who are top three players who might soon be donning a Premier League jersey soon enough? We will figure out exactly that, in this article. Here are three players who could attract loads of interest from some of the biggest clubs in England in the near future.
3. Julian Weigl
Julian Weigl is touted as the next b21-year-old German midfield. The 21-year-old has been the lynchpin of Borussia Dortmund's midfielder ever since he arrived at the club from 1860 Munich. His positional sense and awareness at such a young age is simply astonishing. At 21, Weigl is already the most influential midfielder in Borussia Dortmund and it's no surprise that the Dortmund midfield looks out of touch without Weigl.
Weigl's passing is one of his strongest assets in his game. The young midfielder has averaged a pass completion rate 91% and 89% in his first couple of seasons with Dortmund. He is not just a distributor but also plays a key role when it comes to switching the point of the attack. Weigl is the perfect player for any team who implements the possession based game, thus, it didn't come as a surprise when FC Barcelona were interested in the German midfielder.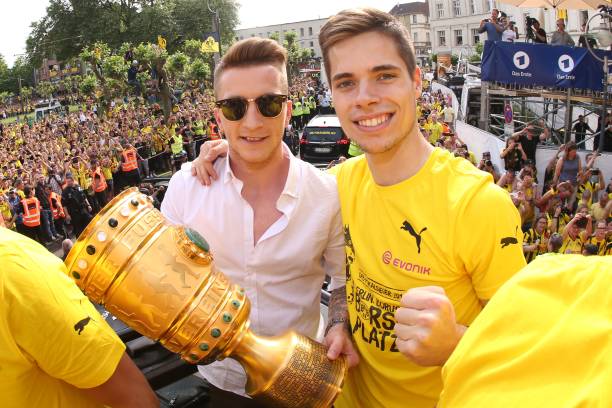 The former 1860 midfielder is expected to be a part of Germany's World Cup squad next season and it will be interesting to see how he performs in the coveted tournament. If he manages to perform well at the competition, then no doubts, the Premier League clubs will do whatever they can to vouch for his signature and may be even before.
2. Benjamin Henrichs
Another youngster who comes to mind when speaking of raw talents. Benjamin Henrichs of Bayer Leverkusen is already a key man for his club's defensive system. Henrichs first broke into the side under the guidance of the previous boss Roger Schmidt. At 20, Henrichs' defensive maturity is well beyond his years. Since his debut, he has already made 47 appearances for Leverkusen in the Bundesliga.
He is an extremely well-drilled fullback who loves to play according to the scheme of his manager. Roger Schmidt was very happy with the youngster's progress. Benno Henrichs is a great versatile defensive option, as he can also play as a left back too. Even though he lacks some of the attacking abilities in his gameplay at the moment, Henrichs is well regarded as one of the up and coming talents in the Bundesliga.
Recently, Tottenham Hotspur were interested in landing the Bayer Leverkusen starlet as Kyle Walker replacement. It will definitely be interesting to see if they manage to sign Benjamin Henrichs, who looks to be one for the future.
1. Timo Werner
Probably the most underrated player in this list, Timo Werner has been an outright star for newly promoted RB Leipzig last season. He helped the marketing giants, rise to the top by scoring 21 goals and providing seven assists in the Bundesliga. Timo Werner was also the golden boot winner in the recent FIFA Confederations Cup, starring as a frontman for Die Mannschaft and scoring four goals.
Werner plays a key role in Ralph Hassenhuttle's system of counter attacking football. He teams up with the partnering centre forward(mostly Yusuf Poulsen) and quick closes down the opposing centre backs, a chain which follows in the midfield too. His raw pace helped Leipzig to make a quick transition from defence to attack, all in a matter of seconds.
Liverpool were interested in the services of the former Freiburg attacker but it seems as if he will not leave Leipzig this summer. However, this only favours Jurgen Klopp as he can follow the youngster for another season in the Bundesliga, before really going after him next summer. His pace and goalscoring abilities can make a huge difference for Liverpool.
The following two tabs change content below.
Anas Ali
Bundesliga connoisseur and writer at Bundesliga Fanatic and The 4th Official. My heart belongs to Borussia Dortmund or Eintracht Frankfurt (still not sure who deserves the most), but I adore the Bundesliga and Spanish footballing tactics. 16 years old, Josh rides Tyler |-/ (I already love you if you know what that means)/ Come to my house and we will watch Netflix and eat Nutella. lol just kidding.
Facebook Comments
comments