According to reports in France, Borussia Dortmund star striker Pierre-Emerick Aubameyang is open to move to Liverpool, who are reportedly preparing a massive bid in order to lure the Gabonese International to the Merseyside this summer
Aubameyang himself has looked keen to leave the Signal Iduna Park this summer, and a host of big clubs in Europe, including PSG, Milan, Manchester City and Chinese clubs as well are interested in his signature. However, PSG and Milan vouched for the alternative route and signed/targeted younger options. While Tianjin Quainjian, the Chinese club who were interested in Aubameyang, have also reportedly gone for a cheaper alternative in Anthony Modeste of Koln. So Liverpool remains his only option if he wants to leave the Black and Yellow camp this upcoming summer.
So is he the right man for Liverpool in the attack? How will he fit into Jurgen Klopp's gegenpressing style of play?
Well, it's almost needless to say that Aubameyang is actually quite familiar with Klopp's style of play, as the 50-year-old was the one who brought him to Dortmund in 2013. At that time, Auba was mostly a winger, who kind of struggled to get used to the system of the former Dortmund trainer, although he was still the club's top scorer in the terrible winning 2014-15 season.
However, a lot has changed since then. Aubemeyang is a much more complete centre-forward, and under Thomas Tuchel, the Gabonese frontline striker has managed to evolve his game into a different new level. His speedy nature of the play could be very useful for Liverpool to exploit the Premier League defences.
In addition, Aubameyang has made more sprints than any other player in the Bundesliga this season, meaning he has a tendency to run in behind the defense, which becomes a very crucial trait for a striker, especially when his team executes a high pressing game, which is the case with Jurgen Klopp in nearly every game.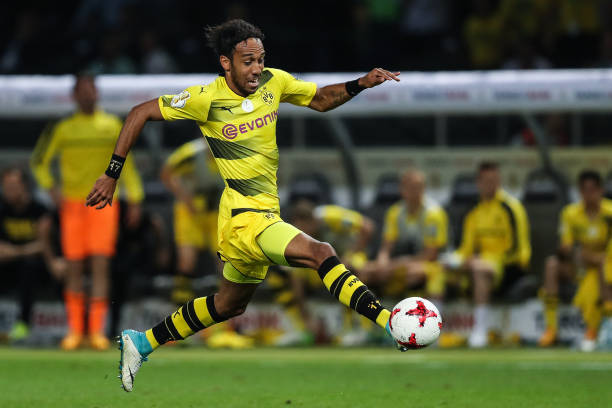 Aubameyang can also solve Liverpool's striker woes. For the past few years, the Reds have lacked the services of an out and out striker, with Daniel Sturridge, constantly being out on the sidelines through injury. Divock Origi has been good, but not good enough to instigate himself as the Liverpool frontman. Roberto Firmino has played down the striker's role for a few times, but he clearly plays better when deployed behind the main striker. Therefore, the inclusion of Aubameyang definitely makes sense for the Liveoffenceffense.
He is also extremely clinical in front of goal and has the knack of being in the right place at the right time. The 28-year-old has scored 120 goals in 189 matches since moving to the Ruhrpott in 2013. His sharp positioning, clinical nature and sheer pace will be a nightmare for any defence in the world.
What he lacks in the physical department, he makes up for it, with his incredible pace, which forces the opposition defenders to mark him from a deeper position. Coach Jurgen Klopp will love to have someone like Aubameyang leading his offensive lines with the likes of Philippe Coutinho, Roberto Firmino and Adam Lallana providing the service for the former Saint Etienne attacker.
However, Auba does lack the tendency to drop back and help out the defence. He rarely tracks back playing for Dortmund, actually, it's something which he really hates to do. And this is surely not a good sign, especially for Jurgen Klopp's system, where tracking back is a pivotal part of the gameplan.
Overall, seeing Pierre-Emerick Aubameyang playing in a Liverpool kit will be a dream come true for the Scousers. He has all the ingredients to thrive as a Premier League marksman but it will be very tough for Liverpool to sign the Gabonese international, whose chances of staying at Dortmund is seemingly increasing.
On the other hand, Mohammed Salah has also been a hot topic for Liverpool in the market. The duo of Salah and Aubameyang will be a treat to watch and is sure to make the Merseyside club a title contender next season.
The following two tabs change content below.
Anas Ali
Bundesliga connoisseur and writer at Bundesliga Fanatic and The 4th Official. My heart belongs to Borussia Dortmund or Eintracht Frankfurt (still not sure who deserves the most), but I adore the Bundesliga and Spanish footballing tactics. 16 years old, Josh rides Tyler |-/ (I already love you if you know what that means)/ Come to my house and we will watch Netflix and eat Nutella. lol just kidding.
Facebook Comments
comments