It is no secret that Liverpool are in the market for a new winger this summer. AS Roma's Mohammed Salah has been a hot transfer subject for the Reds over the past few weeks but they are yet to finalise a deal for him.
Another name floating around the market is Borussia Dortmund winger Emre Mor, who is reportedly available for a loan move. Liverpool have been linked with the Turkish International, and according to various sources, they even have the option to turn his loan move into a permanent deal after signing the youngster. So, will he be a good addition for Liverpool in the attacking department?
Being a Borussia Dortmund fan, I find it really hard to believe that he's lived up to his billing so far.
Mor earned his move to Signal Iduna Park as a promising young talent in the Danish Superlig, even though he scored only two goals and provided just two assists playing in the Danish top division. However, that didn't stop the fans and media to hail him as the 'Turkish Messi' because the young attacker was an exceptionally good dribbler, who is very good on the eye as well.
A fee of eight million euros seemed rather expensive for a player, who played only fourteen professional matches prior to his move to BVB. However, some could argue the fact that he did show few glimpses of his talent in the European Championships 2016. But he could never break into this Borussia Dortmund first eleven this season, despite stars such as Mario Gotze, Andre Schurrle, Marco Reus being ruled out for most period of the season due to injury.
Naturally, Emre Mor is an exceptionally gifted dribbler, who has an eye for goal as well. He averages 4.4 dribbles per game, which is great especially for a central attacking midfielder. He always has an eye for that through ball to break through the opposition defences, however, he rarely manages to pull off such passes and averages only 0.6 key passes per game.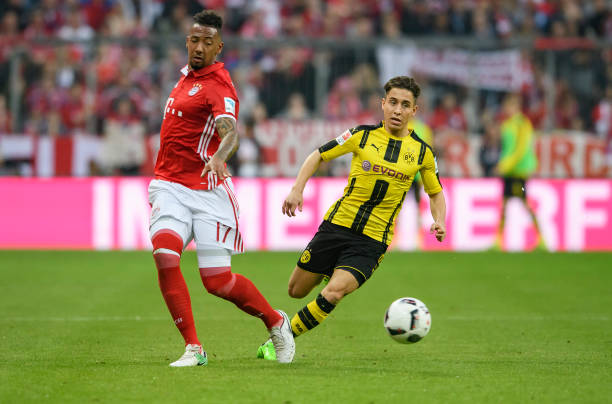 Prior to his move to Dortmund, Mor was known to be very selfish in front of goal, but it seems as if he has improved on that a lot. However, he does lack the strength and stamina, despite having the aggression. Mor is yet to complete a full ninety-minute match for Borussia Dortmund in his time in Germany
The Turkish International is, although, a great option to have on the bench as he can change the course of the match at any given time. He has been fruitful for Dortmund when subbed on, in the final phase of the game, where he normally made a quick impact on the game with this directness.
Even though he didn't manage to perform well at the Bundesliga, where he found it really hard to settle himself under the conditions, Mor's performances with the national team have been great. He still remains one of the best young talents of the current generation in his country.
Mor featured in just twelve games for Borussia Dortmund this season in all competitions where he managed just one goal and three assists. So a loan move to Liverpool does make sense, who are also looking for an attacking talent in the summer. While Mor may find it difficult to get used to the Premier League football, he will no doubt be an asset for Jurgen Klopp's team, if he does make the switch.
The following two tabs change content below.
Anas Ali
Bundesliga connoisseur and writer at Bundesliga Fanatic and The 4th Official. My heart belongs to Borussia Dortmund or Eintracht Frankfurt (still not sure who deserves the most), but I adore the Bundesliga and Spanish footballing tactics. 16 years old, Josh rides Tyler |-/ (I already love you if you know what that means)/ Come to my house and we will watch Netflix and eat Nutella. lol just kidding.
Facebook Comments
comments